About Us
Kanaka Computers: Founder - Stephen Nelson
I started working with computers in 1984, back in the days of DOS and Windows 3.0. I have worked with several large companies so I have an understanding for the Corporate World. I found that being a corporate "number" was not my forté and realized that my strongest characteristic is working with the customer towards a common goal.
In April 2009, I founded Kanaka Computers because of a strong market need for affordable, reliable and convenient computer repair & consultation.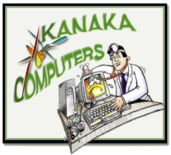 After listening to friends and relatives talk about computer repairs that were very expensive or computer systems they purchased that were in the $900-$1600 range, I asked them why they paid so much. "No other alternative" was always the answer. So here we are in an economic downturn where computers are no longer disposable because fixing them isn't as economical as buying a new one. Too many times I have heard talk about basic computing needs not being met and spending a small fortune for computer systems that did not suit individual needs. After all, why would a senior citizen need a computer system designed for high end graphics/video or video gaming?
I have worked with Mainframe Computers (Canada Safeway) so I have a strong sense of the birth and development of computers and the Internet in general. I was a member of the first group of Internet Service Providers at BCTEL/TELUS so I understand Customer Service is the heart of all successful small businesses. Kanaka Computers relies on excellent relationships with clientele.
I am a Certified A+ Technician with a Diploma in Network & Internet Security. I specialize in PC customization and with over 20 years of computer development, I promise you an affordable solution, a positive attitude, and a convenient and reliable experience.
Our Mission
Repair and maintain your computer with Service RATES based on our current economy.
Advise you on your personal computing needs instead of costly computer systems that will only benefit high-end users.
Return to genuine Customer Service! We will endeavor to work around YOUR schedule, not someone else's.

Contact us for all your computing needs!