Service List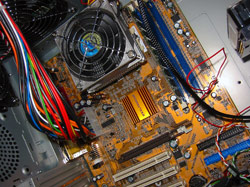 Due to the nature of computer service & repair, the following list is intended for general information only.
Specific details will be provided once a technician has had an opportunity to review the computer(s)or system that requires servicing.
Kanaka Computers Service Rate is $80.00/per hour (CDN) unless otherwise noted.
FREE PICK-UP, DELIVERY, & SETUP in the Maple Ridge, BC area. In-Home consultations are also available within the Greater Vancouver area.
Basic Maintenance
Don't let Spyware or virus issues slow down that new Computer or Laptop! Includes Microsoft Windows updates, hardware driver updates, Malware and virus scan/removal, dust/particulate cleaning and CPU speed optimization.
Service Time: Approximately 60 - 90 Minutes
(Recommended every 3 - 6 Months)
Full Maintenance
Includes Basic Maintenance Package plus an analysis of all hardware, including video card, sound card, cable integrity, functionality of the storage drives, Ethernet card, and virus protection/firewall.
Service Time: Approximately 90 Minutes
(Recommended Yearly)
Computer Repair
Includes troubleshooting Operating System problems (crashes and errors), and replacing necessary hardware/software that has failed.
Service Time: Time Varies
(As Required)
Upgrading/Hardware Installations
Includes Memory, storage devices (hard drives,cd-rom, dvd-rom), sound cards, graphic cards, Ethernet cards, printers, scanners, and faxes.
Service Time: Approximately 60 - 120 Minutes
( As Required)
Home Network Set-up/Consultation
Includes solutions for developing a small home network that suits your needs (i.e. desktop, laptop, wireless, security, etc.)
Service Time: Time Varies
(As Required)
Backup, Storage & Recovery - @ $80.00/hr.
Includes backing up (or recovering where applicable) your entire hard drive or specific files, copying them to a removable disc for storage as well as storage of the files for you offsite.
Service Time: Time Varies based on Data size
(Recommended every 6 Months)
Software Instruction/training - @ $80.00/hr.
Includes all Microsoft Office programs, Microsoft Windows Vista, 7, 8, 8.1, Windows Server, Video and Music editing, etc.
Service Time: 1 hour minimum charge, hourly rate applies thereafter.
Basic Website Design
Looking to get yourself or your product/hobby up on the world wide web? Kanaka Computers also provides basic Website design using our custom template. Note: Audio/Video presentations are not included in a basic website. An example of a basic website would be our website, Kanaka Computers. Contact us for more details and service rates.
Service Time: Time varies based on the size and complexity of the website required.

Contact us for all your computing needs!